https://www.eventbrite.co.uk/e/photonics-for-net-zero-registration-163480244813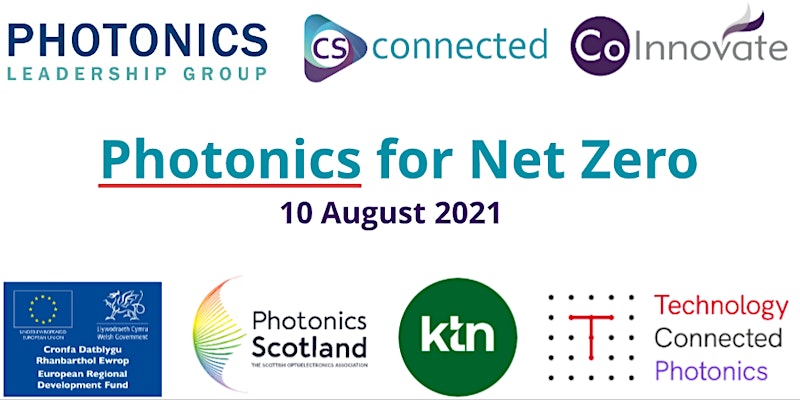 Aug
10
Photonics for Net Zero
by CoInnovate Free
Actions and Detail Panel
Free Register
Event Information
Share this event
Date and time
Tue, 10 August 2021
10:00 – 12:30 BST
Add to calendar Location
Location
Online event Event description Addressing Net Zero Challenges through Collaboration in Photonics
About this event
The UK government is due to release a new innovation strategy in the next few weeks and this blueprint will be critical in defining the direction of UK R,D&I.
Net Zero will no doubt appear high on the agenda and Photonics will have a big role to play in developing innovative solutions to ensure that the CO2 we add to the atmosphere is no more than the amount that is taken away.
CSconnected, KTN, Photonics Leadership Group, Welsh Government, Photonics Scotland and Photonics Connected have teamed up to host an open innovation workshop on 10th August, where leading organisations will be sharing some of the urgent Net Zero challenges that Photonics can address, followed by breakout discussions to consider potential project themes and solutions that can be taken forward. It is envisaged that the outputs of this interactive workshop will be shared as part of representations to the Comprehensive Spending Review 2021.
We welcome registrations from across the photonics sector, as well as end-users of photonics technologies/systems to include diversity of capabilities and insights.
Please input as much information as possible on the registration form to help the organisers in ensuring that delegates can get the most benefit from the breakout sessions. Tags
Tags
Online Events Online Networking Online Science & Tech Networking Share with friends
Share with friends
Date and time
Tue, 10 August 2021
10:00 – 12:30 BST
Location
Online event

Organiser of Photonics for Net Zero
CoInnovate is dedicated to building effective networks to facilitate the commercialisation of emerging technologies.Read moreRead less
Save This Event
Log in or sign up for Eventbrite to save events you're interested in. Sign Up Already have an account? Log in
Event Saved
Site Navigation
Use Eventbrite
Plan Events
Find Events
Connect With Us
© 2021 Eventbrite
Contact the organiser
Your Name Email Address Message
Your email will only be seen by the event organiser. View privacy policy. Send message Cancel Beginning of dialog Dialog window. Press escape to close dialog.
Add to Calendar
Close
End of dialogBeginning of dialogEnd of dialogBeginning of dialogClose
Reminder Set!
You will be notified by email one hour before the onsale. Reminders can be managed from the event listing.OK End of dialog
Copy Link
Copy Event URL
Social Settings
Events are social. Allow Facebook friends to see your upcoming events? Yes (Recommended)Yes (Recommended) No, keep my events secretNo, keep my events secretSave Beginning of dialog Dialog window. Press escape to close dialog.
Report This Event
Close
Please help Eventbrite investigate this event by providing information about why you're reporting it.Reason For Report Cancelled event Copyright or trademark infringement Fraudulent or unauthorised event Offensive or illegal event Spam OtherYour email Description Additional details are required when 'other' is selected, but recommended for all reported issues. Submit Report End of dialog